SWIT S-2840 - Panel RGBW LED 400W
Descripción
Archivos de Descarga
Swit S-2840 Panel de luz LED RGBW
◆ 560 piezas RGBW SMD LED
◆ 400W de salida
◆ 10000Lux @ 1 metro
◆ Temperatura de color 2800-10000K
◆ Modo CCT con ajuste G / M
◆ Modo de color HIS / CIE / RGB
◆ Geles: 20x Rosco + 20x Lee
◆ CRI 95, TLCI 93
◆ Control DMX de 8 canales
◆ Control por aplicación IOS / Android
400W RGBW 1:1 Panel

560pcs SMD LEDs
El S-2840 es una panel LED RGBW 2: 1, adopta 560pcs SMD LED, 400W de potencia de salida, 10000Lux @ 1 metro.
---
Control App Smartphone

IOS and Android
El S-2840 tiene un panel de control en la parte posterior, pero también puede ser operado mediante la app de un smartphone. Los enlaces desde donde se puede conseguir son los siguientes:
APLICACIÓN IOS: App Store, busque "Panel RGB"

APLICACIÓN DE Android: Descargar AQUI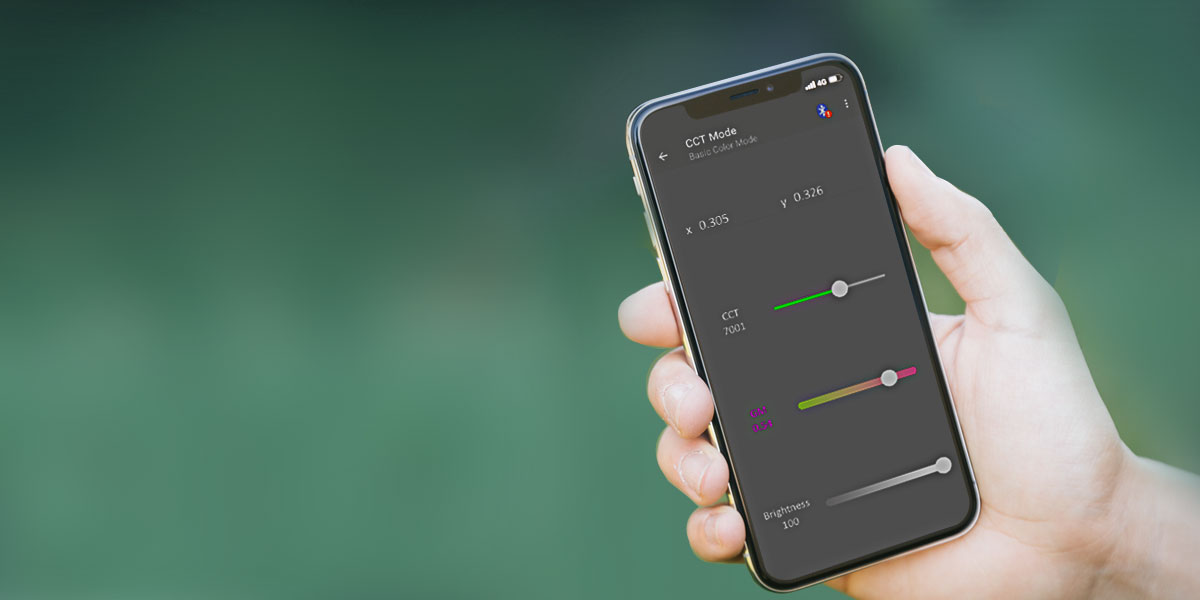 ---
Modo CCT
2800K-10000K, Ajuste G/M
Desde el modo de temperatura de color se puede lograr un ajuste continuo y a voluntad entre las temperaturas 2800K-10000K, así como un ajuste de las dominancias de color Verde / Magenta ± 1.00.

---
Modo RGB
Selección HSI, CIE y RGB


Admite modo HSI, CIE y RGB para elegir colores, mediante la configuración del valor del panel de control posterior o la aplicación del Smartphone.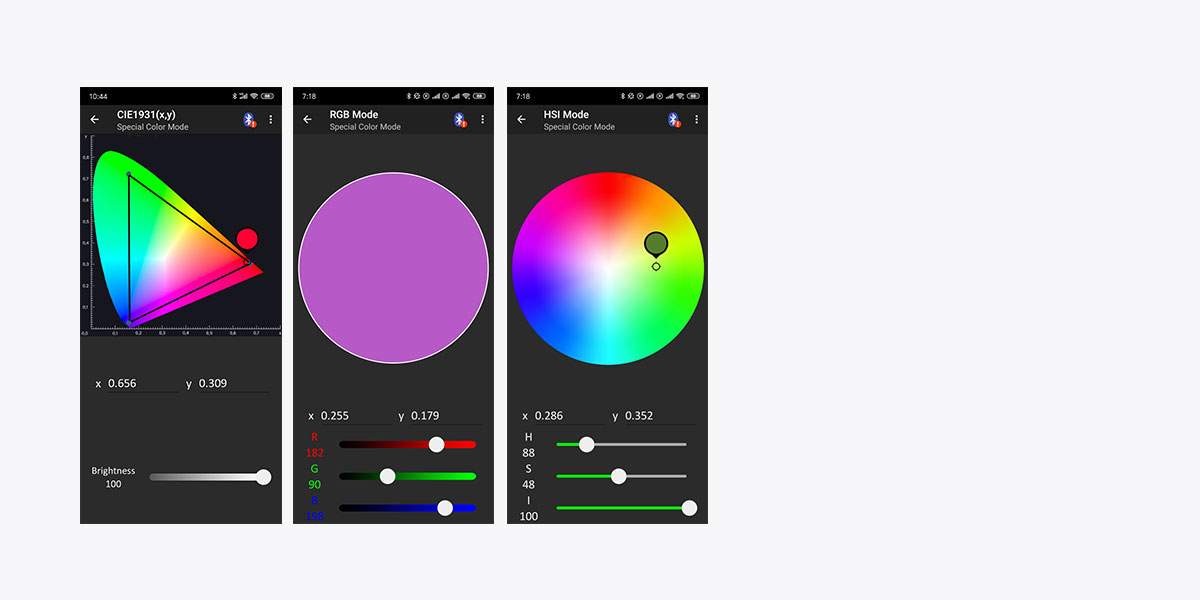 ---
Modo GEL

Geles Rosco and Lee
El S-2840 tiene 20x Geles Rosco incorporados y 20 Geles Lee intercambiables fácilmente tanto desde el panel de control trasero como la aplicación de Smartphone.
---
Alimentación

AC, V-mount DC
El S-2840 admite entrada de alimentación AC SpeakOn y entrada de 4 pines XLR DC 14.8-26V. Tiene también una V-Mount plate para la que se recomienda usar las batería SWIT de alta carga S-8183S, PB-R290S, PB-H290S o PB-H260S.
(La potencia de salida se limitará a 200 W si se usa batería DC-IN o V-mount)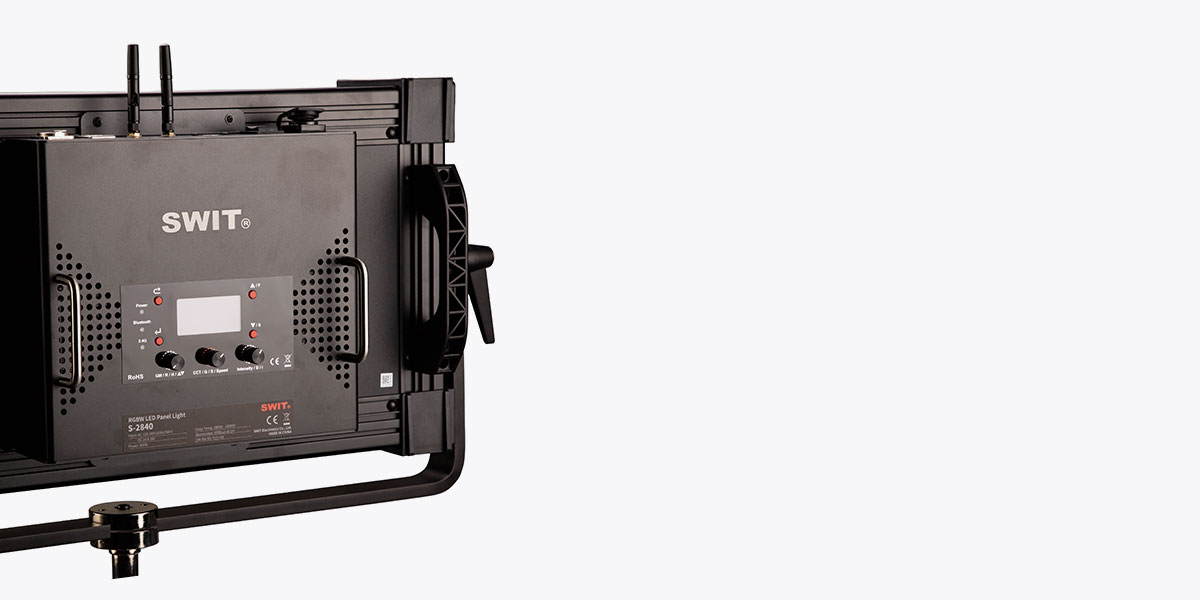 Especificaciones Técnicas:
| | |
| --- | --- |
| Modelo | S-2840 |
| Temperature Color | 2800K-10000K |
| Ajuste G/M | ±1.00 |
| Luminancia | 10000Lux @ 1meter |
| Angulo del Haz | 70° |
| epresentación de Color | CRI 95; TLCI 93 |
| Voltaje de entrada | AC 100-240V, 50/60Hz; DC 14.8-26V |
| Salida de Potencia | AC-IN 400W; DC-IN 200W |
| Dimensiones | 629mm × 331mm × 195mm |
| Peso | 14.4kg |
DMX Channel
| | |
| --- | --- |
| DMX address | Description |
| N | General intensity 0-100 |
| N+1 | Color temperature 2800K – 10000K |
| N+2 | Green/Magenta -1.00 - +1.00 |
| N+3 | White Mode / RGB Mode switching |
| N+4 | Red 0-255 |
| N+5 | Green 0-255 |
| N+6 | Blue 0-255 |
| N+7 | White 0-255 |
Modos GEL
| | | | |
| --- | --- | --- | --- |
| NO | Rosco Gel | NO | Lee Gel |
| 1 | R65 Daylight Blue | 1 | 131 Marine Blue |
| 2 | R9406 Bastard Amber | 2 | 148 Bright Rose |
| 3 | R333 Blush Pink | 3 | 002 Rose Pink |
| 4 | G910 Alice Blue | 4 | 128 Bright Pink |
| 5 | R92 Turquoise | 5 | 724 Ocean Blue |
| 6 | R93 Blue Green | 6 | 137 Special Lavender |
| 7 | E724 Ocean Blue | 7 | 723 Virgin Blue |
| 8 | E165 Daylight Blue | 8 | 169 Lilac Tint |
| 9 | E153 Pale Salmon | 9 | 201 Full C.T Blue |
| 10 | G342 Light Honey | 10 | 036 Medium Pink |
| 11 | R38 Light Rose | 11 | 007 Pale Yellow |
| 12 | R4415 CalColor Green | 12 | 243 LEE Fluorescent |
| 13 | E156 Chocolate | 13 | 603 Moonlight White |
| 14 | R397 Pale Grey | 14 | 194 Super Pink |
| 15 | E723 Virgin Blue | 15 | 701 Provence |
| 16 | G990 Dark Lavender | 16 | 115 Peacock Blue |
| 17 | G220 Pink Magenta | 17 | 110 Middle Rose |
| 18 | G720 Light Steel Blue | 18 | 048 Rose Purple |
| 19 | E128 Bright Pink | 19 | 602 Platinum |
| 20 | R51 Surprise Pink | 20 | 117 Steel Blue |
S-2840+User+Manual.pdf